Sell Homes in Boston & Greater Boston Area
Real Estate resources for selling homes in boston & greater Boston area
About Selling Real Estate with Gibson Sotheby's International Realty
Selling your home today requires a skilled and experienced agent who can provide thoughtful marketing and international reach. Our agents are licensed REALTORS® who can provide a timely competitive market analysis, develop a pricing/positioning strategy and reach out to the broadest audience of potential buyers. We are seasoned and trusted advisors who can guide you through the sale of your home and with any challenges that may arise. As REALTORS®, we also adhere to a strict code of ethics and always put our clients' interests before our own.

A growing number of buyers are coming from overseas – in fact, a survey in late 2010 by the Association of Foreign Investors in Real Estate (AFIRE) ranked Boston as the third most desirable US city for real estate investments. Of the respondents, 72% indicated that they intend to invest more in 2011 than in the prior year. Local and regional outreach is not enough anymore. Now more than ever, our global network and world renowned name provide critical exposure for each home we represent. Some of our recent buyers have come from China, France, Italy and Singapore.

Our real estate agents are supported by our in-house Marketing Department to ensure that your home is presented in the best possible way. We continue to employ traditional marketing methods, but also try to appeal to the tech-savvy Boston area homebuyers by using a broad range of new media tools. Our new media marketing efforts range from displaying our homes on dozens of websites to dynamic mobile marketing via smartphone applications. You can even follow us on Facebook or Twitter, or view our homes on our YouTube channel.

Some of our marketing efforts include:
Professional photography: We have our own experienced in-house photographer to best capture the details of each home. Having lots of high quality photos has become even more important with the increasing number of homebuyers starting their search online. THE NATIONAL ASSOCIATION OF REALTORS® (NAR) tells us that approximately 90% of homebuyers begin their search online. RIS Media also notes that homes with more photos online sell more quickly (Source: RISMedia, Gar Benedick, 04/01/08 ).
Beautiful brochures: We create high quality brochures of each home with large, high-resolution photographs and important details about the home. We know that buyers are often looking at several houses in a short period of time. Therefore, it is important that our brochures are enticing representations of the character and beauty of each home, while reflecting the elegant look and feel of Sotheby's International Realty. Simply put,an MLS printout is a disservice to a home and homeowner and will not attract a discerning buyer, and at Gibson Sotheby's International Realty, we want to represent your home in the best way possible.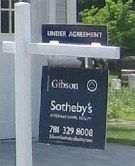 Signage: We place an elegant Gibson Sotheby's Internation Realty sign on each property, using our brand's reputation as a top luxury retailer to entice clients. We also provide simple instructions to gain access to our text-to-MLS service, allowing each passerby to gather price, square footage, numbers of bedrooms and baths, and more information about your home. This encourages buyers who may not want to speak with an agent to seek property information in a more comfortable fashion. This service makes accessing information faster and easier for the buyer, who no longer needs to wait for Internet access to learn about your property.
Sharing information with other brokers: We share photos and details of your home via several listing information services, including Sotheby's International Realty affiliate network, MLS and LINK (where appropriate). These services allow other agencies to see that your home is available for sale. Some agents also enroll active buyers in automatic updates generated by these services. Our entries are then seen by those potential buyers.
Property-specific marketing plan: We can create a customized marketing plan for individual properties. These strategies are designed to best position a home in the marketplace, identify ways to reach out to each appropriate audience and to create an action plan for the first three to six months of marketing the home
Online marketing: With approximately 90% of buyers beginning their searches online, we believe it is critical to garner comprehensive internet exposure. Therefore, we distribute each home to more than 40 websites, including SothebysRealty.com, GibsonSothebysRealty.com, Boston.com, Realtor.com, WallStreetJournal.com, NewYorkTimes.com, IHT.com (International Herald Tribune), LP-LuxuryProperties.com, HomeFind.com, Trulia.com, Zillow.com and more. We have built unique relationships with WallStreetJournal.com and NewYorkTimes,com, offering the Business of Extraordinary Living microsite on the former and prime advertising space on the latter. NewTorkTimes.com is now the second highest ranked referral site for SothebysRealty.com. We also set ourselves apart with two exclusive sites: our local company site (GibsonSothebysRealty.com) and our international site (SothebysRealty.com). SothebysRealty.com has an average of 3.5 million page views, with more than 30% of the visitors coming from outside the US.
Mobile Applications: More than 60% of homebuyers are of Generation X or Generation Y and research tells us they want instant access to information. We provide two methods. The first is our SIR Mobile application. This GPS-based search tool allows buyers to gather photos, details and sales statistics around them. The second is our text-to-MLS access via Kwkly. This offers MLS details using normal texting protocol
Custom property website: We create a custom website with property-specific address, large photographs, detailed descriptions, floor plans, a downloadable brochure and more. This option provides viewers with a dynamic way to learn about your home, to contact your agent for more information, or to schedule a private tour. Each website reflects Sotheby's International Realty's® sophistication and attention to detail
eGallery: This display system is exclusive to homes in the Sotheby's International Realty® network. It is a breathtaking selection of local and international homes that are displayed on flat screen monitors in Sotheby's International Realty and auction house locations.
YouTube slideshows: The second ranked search engine, behind Google of course, is YouTube. We capitalize on that viewership with engaging slideshows featuring your property. Each one has sophisticated music, elegant imagery, clickable links, geo-tagging and keywords. (See our YouTube channel at YouTube.com/gibsonsothebysrealty for examples.)
Email marketing: We use a dynamic email marketing service to creatively reach a variety of audiences. Features include automatic social media distribution (to Facebook, Twitter and more), clickable maps, one-click access to additional property information, one-click access to the listing agent, and more. Our recipient lists include thousands of area brokers in the region, client lists and Gibson Sotheby's International Realty' network of over 190 agents. We frequently announce Broker Open Houses, Public Open Houses and price reductions via this channel.
Social networking: We feature homes on our blog, our Facebook page, our LinkedIn page, our Twitter page and our YouTube channel. Each of these outlets has its own audience. This method of "Inbound Marketing" appeals to tech savvy buyers by offering useful content that viewers can share with friends, all within their online communities. This is vital to the Boston area, as it is one of the more tech savvy markets in the country. Gibson Sotheby's prides itself not only on our listings, but also on our involvement in the Boston community. Social networking sites are a fantastic way not only to promote your property, but also to build and maintain relationships with past, present and future clients.
Broker Open House: In many cases, we recommend hosting a Broker Open House at your property. In the age of Buyer's Agency, it is critically important to appeal to real estate agents, as well as the buyers they represent, to gather the largest audience. This is a widely accepted method for agents to learn about your property, while networking with colleagues.
Public Open House: In some cases, a Public Open House can be an effective way to appeal to active buyers. It can also attract neighbors who may then share the news of your home's availability with their friends, family and colleagues.
Office exterior and internal brochure display: Each of our offices has a brochure rack in the lobby to display local and international homes. Some offices have exterior displays that draw on the attention of passersby. A great example is our South End flagship office, which sees a lot of sidewalk activity from nearby boutiques, galleries, fine dining establishments and theaters.
Newspaper ads: THE NATIONAL ASSOCIATION OF REALTORS® (NAR) tells us that approximately 90% of homebuyers begin their search online. Not surprisingly, newspaper readership has dropped dramatically. However, we still advertise homes in our local papers to ensure that point of exposure.
Magazine ads: We regularly advertise in regional publications that appeal to a more affluent demographic. Magazines such as New England Home and Boston Magazine distribute their publications to households above median income in the region, making them some of the best magazine advertising space for our buyers Additionally, we choose issues with editorial content that tends to result in extended shelf-life in order to promote your property for a longer period of time.
International print ads: We advertise in several major international publications, such as The Wall Street Journal, The International Herald Tribune, Luxury Properties, Country Life, The New York Times, Financial Times, and more. This further bolsters the international exposure from our online data feed. A survey in late 2010 by the Association of Foreign Investors in Real Estate (AFIRE) ranked Boston as the #3 most desirable city in the US for investors in 2011. Of the respondents, 72% indicated that they intend to invest more in 2011 than in the prior year.
Direct mail: We design full color, glossy direct mail pieces to be sent to a target audience. These postcards communicate critical property information, while reflecting the elegant look and feel of Sotheby's International Realty's® homes.