Vacation In New England
Boston is a hub of education, sport enthusiasts, cultural pride and significance, historical lure, shopping and charm. Our city truly is unlike any other. As the epicenter of New England, what affords Boston such praise and notoriety as a unique destination is its accessibility to many other surrounding localities of the Northeast that all in their own way offer polarizing and distinct attractions. Such places include Cape Cod, just over an hour away with its plethora of beaches, local restaurants and golf courses.
Next is New Hampshire, a state less than an hour north of Boston with ski mountains to challenge even the most seasoned of skier, and lakes and hiking trails to sooth even the most daring mountain man.
Vermont only lingers about some 2 hours outside of Beantown as well. Here there is no better place to spend time with family camping, lake fishing, boating and enjoying all winter sports on top of a variety of majestic mountains.
Finally, Maine, one hour north of Boston along the coast also offers its own unique experiences. From going to the beach to sailing, golfing or hunting, to fishing the ocean for the best seafood or sampling some of the best lobster in the world, Maine will never fail as a place that will always create lasting memories.
Things to do in Cape Cod
Cape Cod is a Massachusetts sanctuary, an escape from the realities of a bustling city to the quaintness of a peaceful oasis. There are many places of interest as Cape Cod is divided into many towns which lay within larger portions known as Upper Cape, Mid Cape, Lower Cape, Outer Cape and The Islands. In Mid Cape one should visit Hyannis and the ever so famous Baxter's Fish and Chips for the best seafood you will ever come across. In Lower Cape, one will fall in love with the towns of Brewster, Harwich and Orleans. In Brewster, there is the Cape Cod Rail Trail, Nickerson State Park, Brewster Fire & History Museum, the Brewster General Store, the Bayside Beaches, the Cape Cod Museum of Natural History, The Grist Mill and Herring Run, the Brewster Flats, and the Brewster Ladies' Library.
Harwich is a part of Lower Cape with over 20 beaches! Some of the lovely points of interest here are Allen & Saquatucket Harbors, Wychmere, the Cape Cod Rail Trail, Brooks Park, Nantucket Sound & Pleasant Bay beaches, Brooks Free Library/Rogers Collection, and the Historical Society at Brooks Academy.
Finally, Orleans is known as a mecca for those infatuated with nature. With the beginning of the beach famous all around the world, known as Nauset Beach, beginning in Orleans, over 300 different species of birds can be spotted here and elsewhere in this quaint town. Some important places to see while in Orleans would be the Johnathan Young Windmill, the French Cable Station Museum and the Rock Harbor Charter boat fleet perfect for admiring the sunsets.
From Cape Cod you find yourself less than an hour away from the Massachusetts wonders of Nantucket and Martha's Vineyard. A mere ferry ride will enter you into a new world of cute shopping boutiques, majestic beaches, breathtaking sights and sounds of the coast all while you enjoy your seafood meal freshly caught that very day. From Boston you can also take a 90 minute ferry to Provincetown (often affectionately called "P-Town") where you can also meander down little streets taking in the architecture, artwork in the quaint shops and even go whale watching on a boat excursion.
Things to do in New Hampshire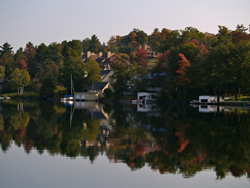 In 'The Granite State' known as New Hampshire, you will be hard-pressed not to find something new and exciting to do for all ages. A wonderful place to begin your New Hampshire experience is in New London. Here visitors are lulled by a summer concert in the Town Common or a musical in the Barn Playhouse. Walk down Main Street for a trip back through time and meander down to Pleasant Lake where you can enjoy the beach, water sports and watch the Loons out on Blueberry Island. Perhaps a more energetic afternoon is on your mind. Why not go skating at the Bob Andrews Memorial Skating Rink or drive the 25 minutes out to Mount Sunapee for some skiing, cross-country skiing, snowboarding, snowmobiling and snowshoeing. With Lake Sunapee, Baker Hill Golf Club, Lake Sunapee Golf Course, Wadleigh State Park, John Hay Wildlife Refuge, Mount Sunapee State Park, and Gile State Forest all within 25 minutes drive, there is no better place to set your holiday roots down than right in the middle of the action in New London, New Hampshire.
Things to do in Vermont
Love the outdoors? Head up to 'The Green Mountain State' of Vermont, one of those places you can count on for continuously being able to provide an unforgettable experience during all four seasons of the year. A State increasingly popular for the continuous spread of Ben & Jerry's Homemade Ice Cream which was established in Burlington, Vermont is sweet and tasty as ever because its topography allows for countless entertaining things to do.
From visiting Manchester, the birth place of Burton Snowboards, a town that creates a unique experience of a tourist-friendly village combined with a serene and local feeling of never wanting to leave. Maybe skiing is the thrill your looking for outside of Boston. There may be no better state than Vermont to hone your craft on the beautiful majestic mountains of Stowe, Okemo, Stratton, Ludlow, Mount Snow, Sugarbush, or Mad River Glen Ski Area by Waitsfield. These, just naming a few of the top ski resorts that can be found all across the Eastern seaboard, are not the only activities people flock to Vermont for. Shelburne with its fame for Orchards and fruit growing also boasts picturesque Lake Champlain and the array of activities that the lake provides. Woodstock also is rich in outdoor programs such as bike tours, fishing, boating, hiking, and golf, just to mention as examples. Finally, Bennington also has all of the aforementioned activities, from hunting to golf to all of the winter activities anyone would be hoping to enjoy.
Things to do in Maine
A quiet drive out of Boston into the country brings you to Portland, Maine. Here, a romantic getaway, a family trip or a time to be with friends can all be more than satisfied. Maine's reputation is so deeply rooted as a vacation destination that the license plates even read, 'Vacationland.' Individuals from all corners of the globe choose to make this their vacation of choice, partly because the accommodations make you feel as though you are in a storybook. Their cute decor and friendly hometown service to match lets one relax and enjoy the pure untouched beauty that is Maine.
If you are hoping to enjoy the nightlife, take a tour through Old Port down the quaint brick lined sidewalks as there are plenty of microbreweries, comedy clubs, pubs, and artsy bars with music and galleries. Some specific places worth notice are the Portland Museum of Art, the Maine College of Art, the Institute for Contemporary Art, Maine's Art Museum Trail and the Farnsworth Art Museum. There are even Maine Foodie Tours and the Maine Historical Society among other timeless landmarks. All of this, coupled with amusement parks for kids, water sports and other recreational activities make this part of Maine right for you.
Portland also proudly holds summer camps, cruises, tours, has parks and wildlife and there are even spas where pampering and relaxation will let you drift away. Moreover, it could be the case that Camden is your Maine retreat of choice. What a way to escape reality if beaches, lighthouse tours, island hopping, outdoor amphitheatre shows or the Camden Snow Bowl are to your liking. If you like ATVing, snowmobiling or boating, then Brunswick undoubtedly should be of serious consideration.
Then there is always Kennebunk. One of the most famous locations in Maine, Kennebunk is where one can go whale watching, browse the wonderful store's, play golf, fish and go to the beach. All in all, wherever you go in Maine, it will not only be worth it because of the plethora of things it offers, but even more so because it is easier to do than you ever thought possible because of its close proximity to Boston.