In todays real estate market, buyers are in search for homes with distinguishable factors that set them apart from others. In the past we have featured homes with unique pools and wine cellars; but this time of year, with the holiday season quickly approaching, buyers are in search for a home with a spectacular dining room.
An accommodating dining room is imperative during the holiday season to easily entertain and welcome guests to gather around one table. Dining rooms have a very special way of bringing family and friends together and today are considered to be a true luxury. Whether it be a special occasion, a celebration, or simply eating a meal together, remarkable dining rooms are a great place where you can entertain and engage in timeless conversations with loved ones.
Featured here are gorgeous homes we have listed at Gibson Sothebys International Realty. Each has an extraordinary dining room that enable a place for countless gatherings and priceless memories to be made.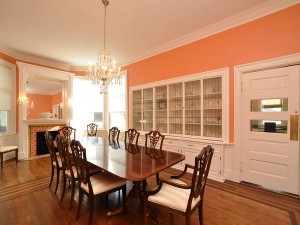 Being able to accommodate your family and friends around one dinner table is truly quite the blessing, especially during the holiday season! Without the proper dining room this special occurrence would not be possible. Do not hesitate to contact any of our agents today regarding the above spectacular properties and make one of these dining rooms your own right in time for the holidays.