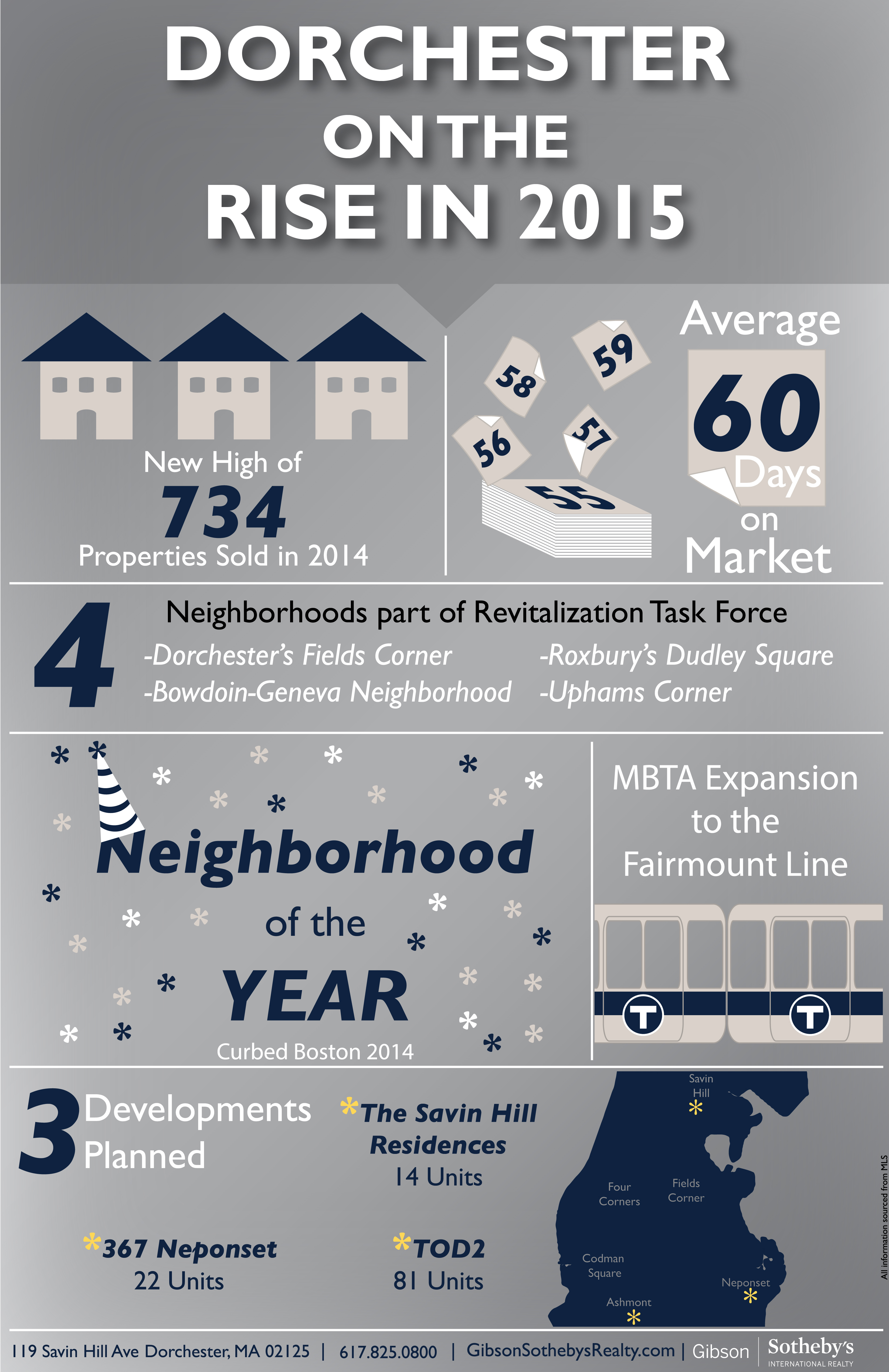 In 2014, Dorchester saw improvements across the board. Sales have significantly increased reaching a new high of 734 properties sold for the year. A decrease in the average days properties have been on the market is at anew low of 60 days provingthat the demand to purchase in this rapidly improving area is stronger than ever.
According to the Boston Business Journal, a task force was created by Mayor Walsh, a Dorchester Native, to focus on replicating the success of the Innovation District in other parts of the city. A committee made up of 27 local leaders will focus their efforts on four neighborhoods which include Dorchesters Fields Corner, Bowdoin-Geneva neighborhood in Dorchester, Dudley Square in Roxbury to Uphams Corner in Dorchester, and East Boston. This committee can only cause improvements on such neighborhoods that are already thriving on their own.
Voted Neighborhood of the Year, Dorchester is significantly evolving as new restaurants, businesses, and developments take over the main streets. Longtime businesses are also revitalizing their store fronts and updating their selections to keep up with this time of innovation.
A few up and coming developments in Dorchester include Ashmont TOD2, a dynamic six-story development with approximately 81 residential units, ground floor retail, and underground and surface parking. This new building is being designed as a contemporary, environment-friendly, Transit Oriented Development that will build on the success of The Carruth to bring a more walkable and better utilized environment to Dorchester Avenue.
Another proposed development is a mixed-use, transit oriented condo project on Savin Hill located directly across from our Gibson Sothebys International Realty Savin Hill office and the MBTA station. A spot that has been vacant for almost a decade now according to Mayor Walsh, will be the Savin Hill Residences comprised of 14 units of housing and a single commercial unit on the first floor. There is also talk of another three-story condo complex consisting of 22 residential units and a restaurant said to be called the Dorchester located at 367 Neponset Avenue.
Dorchester has recently seen an influx of buyers due to the reasonable prices and great location with easy access to public transportation. With this boom of construction, the Dorchester market can only improve. A great deal of Dorchesters recent development has been surrounding the Ts Red Line and soon to be stop on the MBTA Fairmont Line at Blue Hill Avenue. This stop is set to open in June 2017 and will bring a great deal of opportunities to Dorchesters western neighborhoods improving the city overall.
Here at Gibson Sothebys International Realty we are Dorchester specialists and are excited to be part of the changes to come in these Dorchester neighborhoods. Contact any of our Savin Hill office agents at 617.825.0800 for any of your real estate needs and to find out what has made our team the #1 office in Dorchester sales for 2014.
More Information: Dorchester Reporter, Boston Business Journal