By Becca Grady
The decision to buy a home is not one made lightly, and with rents skyrocketing while mortgages are at an all-time low, homeownership may be something youre considering. Prior to settling on a new property, its important to evaluate the area and make sure it not only fits your needs and desires, but is also an up-and-coming neighborhood that will pay off in the long run. Doing your research and finding a trending area is the smartest way to ensure a good investment is made.
For those looking to move to Boston, check out these trending neighborhoods for future investment opportunities.
East Boston
Located just across the harbor from downtown, East Boston has a small town vibe in a big city. With sweeping views of the city skyline, easy access to the airport and a unique appeal to buyers, its no wonder the neighborhood is an up-and-coming area for residents.
The median home value currently stands at $349,000, compared to $476,200 of Boston proper. With home values increasing 67 percent over the last 5 years, the area has been on the rise. The median home value increased 13 percent this last year and is forecasted to increase another 4.4 percent over the next year.
South End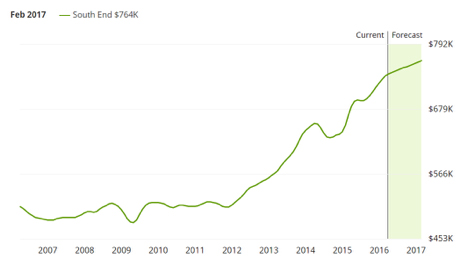 Filled with cultural diversity and a polished exterior, South End is a neighborhood treasured by locals and visitors alike. Just minutes south of downtown, the area embodies the charm of New England through its brick buildings, iron gates and tree-lined streets.
Increasing 11.8 percent throughout the last year, South End touts a median home value of $729,000. This highly residential neighborhood has been gaining popularity, and home values have increased nearly 50 percent in the last 5 years, and are projected to increase 3.1 percent in the next year.
North Dorchester
Home to University of Massachusetts and the award-winning JFK PresidentialLibrary, North Dorchester is rich in history and diversity. Its also Bostons largest and oldest neighborhood and has a broad mix of residents.
With a median home value of $392,300, North Dorchester has a variety of amenities close by, including easy access to grocery stores, shopping, restaurants and coffee shops. Home values in the neighborhood saw a 43 percent increase over the past 5 years, and a 12 percent increase over the last year alone. As a trending area, North Dorchester home values are projected to increase another 3.3 percent in the next year.
With almost 75 percent of home values increasing over the last year, Bostons real estate market has been flourishing. As Boston continues to gain in popularity, neighborhoods outside of the bustle of downtown are seeing a growth in demand and increasing home values. Consider these trending neighborhoods while looking for a Boston home.