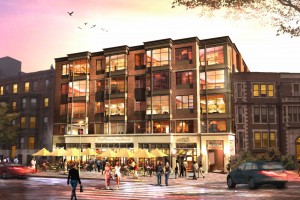 The Fenway neighborhood may be best known as home to the Red Sox, but as the area continues to develop, more and more people are getting in on the action.
According to a recent article in The Boston Globe, condo prices in Boston hit fresh highs last year, thanks to sales at several new high-end buildings and the continuing demand for living in the core of the city. Citing the installation of new luxury buildings in areas including Fenway, the article suggests a new wave of prolific, luxurious real estate development with the broader market fueled by a combination of young professionals, suburban empty-nesters, and some international buyers, who are all drawn to the area for its growing job base and urban life.
One of the stand-out new developments in the area is Gateway Boston. Just steps from Fenways most iconic features, the new construction eclipses 900 Beacon St. with floor-to-ceiling windows streaming light into each unit. The property features fresh construction of 32 luxury rental units over four floors. With options for beautiful one bedroom or one bedroom plus den rentals, each unit features granite counter tops, stainless steel appliances, glass tile back splash, laundry in unit and hardwood floors.
According to the developments listing agent, Brian Caluori, long-term residents of Fenway are excited about the new growth.
I've talked to a few of the neighborhood association members, and everyone seems excited that the neighborhood is being developed and new restaurants and businesses are coming in.
But just what exactly is all the hype about? According to The Fenway, the neighborhoods very own, mega-vibrant online publication, the Fenway area is a dynamic hive of interest and industry, alive 24 hours a day with world-class events, dining, art, shops and groundbreaking innovation.
The air buzzes with a winning spirit, and the eight World Series championships are only a part of it. Vast dining, shopping, and entertainment options attract Bostons most successful up-and-comers, while easy access to groceries and transportation creates the perfect mix of industry and lifestyle. According to Brian, nearly all of Gateway Bostons tenants are working professionals who chose to live in Fenway for the energetic neighborhood and easy commute into the city.
Gateway Boston embodies what it means to be a resident in Bostons most dynamic neighborhood, located within a two-minute walking distance to both St. Marys and Fenway T- Stops on the Green Line, Whole Foods and Fenway Park. Personally, Brian says, he loves Gateway because you are so close to everything the city has to offer.
Though Gateway has already leased 28 out of 32 unites, there are still two properties available. To make one of them your own, contact Brian Caluori at brian.caluori@gibsonsir.com or visit GatewayBoston.comfor more information.