This Mediterranean mansion is unlike any other home in Boston. A true urban oasis, this home features fourfireplaces, an in-ground pool, and well manicured grounds. Read more about this specialproperty below.
Located on the corner of Hyslop and Fisher Avenue on historic Fisher Hill in Brookline, this 10,867 square-foot villa offers eight bedrooms, six baths, and a four car garage. The magic, however, is in the details. No light fixture is left unfinished and no crown molding unpolished. Each room captures the feel of a far-off paradise through fine detail and craftsmanship.
The grand entry way welcomes weary travelers with open arms and spacious stairwells, while red accents spice up the space and beckon guests inside. This area acts as the main landing of the home offering a central space from which the formal dining room, living room, library, and two sun rooms stem. The library offers stunning woodwork with a private study area, while the living room provides a plush space to relax and entertain.
The eat-in kitchen area opens up to a private courtyard in the back, while around the corner, sunrooms stream in light across the entire first floor. This seamless flow between the outdoors and indoors creates a dynamic feel in the home. Like a Tuscan villa overlooking the Tyrrhenian sea, it exhales a warm summer breeze.
The backyard features perhaps the most luxurious part of the property: a tropic pool and spa area. Lined with palm trees and azure-blue umbrellas, the stunning oasis was previously just a castle in the air before the developers of 166 Fisher made it into a reality. Flanked by beautiful blooming flowers and manicured plants, the outdoor pavilion provides the perfect alfresco getaway. On chillier Boston days, however, an adjacent indoor soaking tuboffers the same tranquilexperience.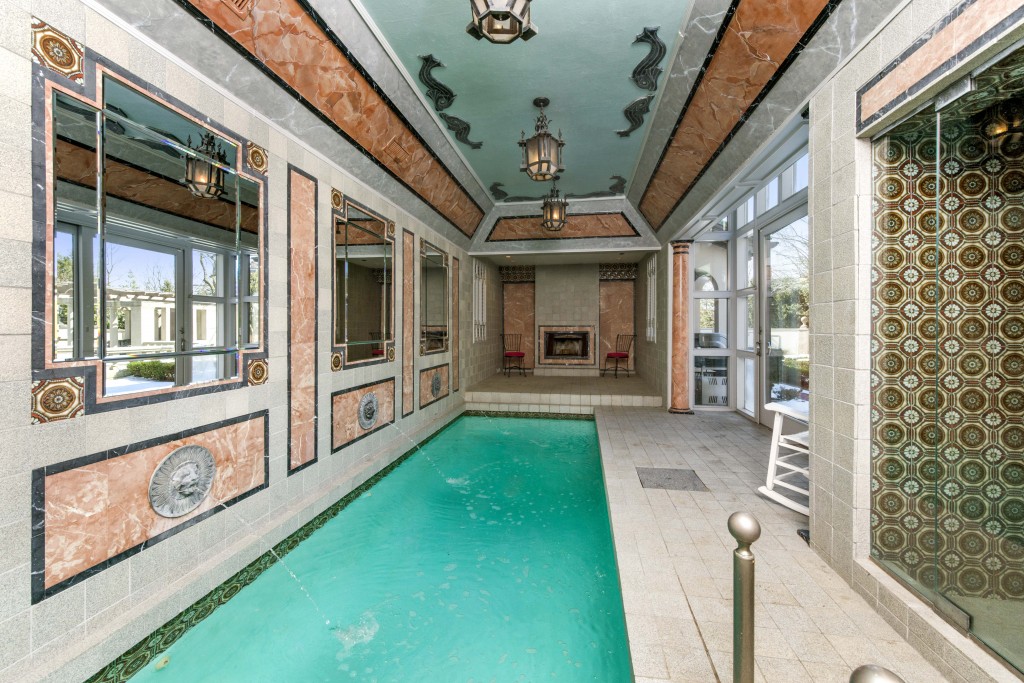 Upstairs are two over-sized master bedroom suites with private baths and potential for elegant sitting and dressing rooms, and two additional family bedrooms or space for separate staff quarters. On the third floor, four more bedrooms and two added baths provide ample space for families to spread out or host guests comfortably.
Additionally, there is an attic and partially finished basement with plenty of storage as well as a four car garage.