New Book Guides Chinese Through Process of Strategically Investing in US Real Estate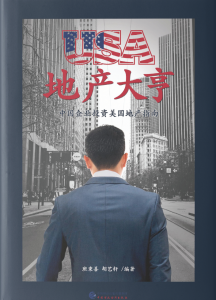 Gibson Sothebys International Realty is pleased to announce that their Chairman, Larry Rideout, has co-authored the book,Chinese Institutions Definitive Guide to USA Real Estate. The publication strategically guides Chinese buyers through investing in many of the major metropolitan areas in the United States.Rideout wrote the chapter on Boston, one of the most desired locations for Chinese investment in the United States in recent years.
"We are extremely excited to have contributed to this initiative along side so many titans of the real estate industry. Boston has transformed into an international hub before our eyes over the course of the last decade. This book is just another testament to the power and consistency within the Sotheby's International Realty brand that allows us to best service our clients from all over the globe," noted Rideout.
Currently available for purchase in the US for $15 on Amazon.com and in China for 88 RMB on major Chinese online book retailers including Amazon, DangDang and JD Books, the book will be promoted with an international tour with a stop in Boston on April 20th. The tour kicks of in Manhattan and includes stops in Washington D.C., Miami, and Dallas.
Chinese Institutions Definitive Guide to USA Real Estateincludes chapters on Why Purchase US Real Estate, Important International Tax Issues, Single-Family Investment, Closing the Deal, and more. The book effort was led by Ben Briggs, Executive Vice President of International Business for Briggs Freeman Sotheby's International Realty, who has lived in China for over ten years. The book includes chapters highlighting markets and submarkets in many of America's top gateway cities and is written by local real estate CEOs and top brokers nationwide.
About Gibson Sothebys International Realty Founded in 1962 by Betty Gibson, Gibson Sotheby's International Realty is Boston's largest independent real estate company. The firm ranked third in the State of Massachusetts for 2016 with closed sales in excess of 1.4 billion dollars. Gibson Sotheby's International Realty is part of the Sotheby's International Realty network which encompasses 850 offices in 65 countries and territories worldwide. Each office is independently owned and operated. For more information, please visitgibsonsothebysrealty.com