The Boston-based real estate companys human-centered business model
continues to drive agent productivity and client success stories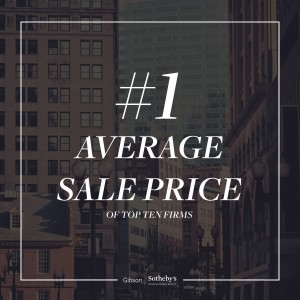 BOSTON, MA Gibson Sothebys International Realty, Bostons largest independently-owned real estate company, announced today its surpassing of $1 billion in sales volume in the first seven months of 2018. According to MLSpin, the company achieved a $1.002 billion sales volume with an addition of $200 million in off-market sales between January 1 and July 31 this year, realizing the highest average sale price of the ranking top ten firms. In this time frame, Gibson Sothebys International Realtys agents made a positive contribution to the lives of 1623 people across the Greater Boston area, helping them navigate the buying and selling process and fulfill their real estate goals.
Our core purposeis to create value for our agents, commented Colleen Barry, CEO of Gibson Sothebys International Realty. As a result, our highly productive agents have spent the last several months deeply committed to achieving the best results for their clients. This benchmark is a tremendous validation of our teams performance, and this achievement belongs to every agent who calls Gibson Sothebys International Realty their home.
We are eager to share this positive milestone and thank our agents for their tireless efforts and our clients and community for their support along our journey, added Larry Rideout, Chairman and Co-Owner of Gibson Sothebys International Realty. Ethics, character and the resulting culture motivate us more than production. We have a long-term view for this company, and we are dedicated to holding true to the principles that have contributed to our 56-year history and success in the first place.
Since 1962, Gibson Sothebys International Realty has grown exponentially and continues to cultivate a people-centric and technology-driven culture. The mantra of family has been woven into the leadership of Co-Owners Larry Rideout and Paul McGann for over a decade, providing a business platform designed to help their agents excel. The strategy is working, generating significant company growth and development following the acquisition of top boutique agency Broadway Village Real Estate, located in South Boston, and Home Center Sothebys International Realty, with two locations in Hingham and Cohasset. As a result, Gibson Sothebys International Realty now operates in 11 total locations across Greater Boston.