Gibson Sothebys International Realty continues to cultivate relationships with Sothebys International Realty Affiliates in our effort to expand our companys global footprint. We are thrilledto announce the distinguished panelists and award-wining moderator of the International Real Estate Business Panel at the first annual Boston Networking Event this Spring.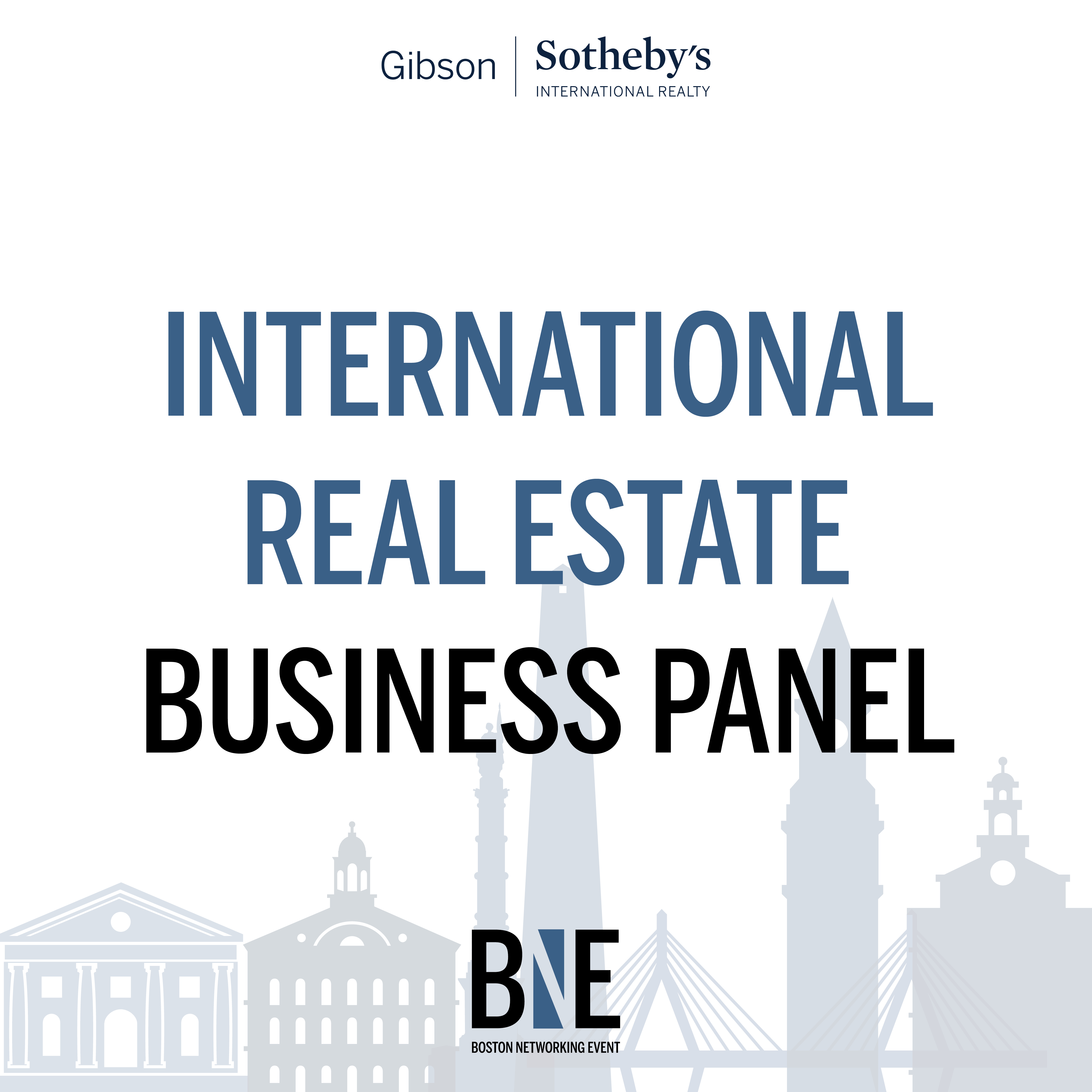 Richard Silver, Moderator Senior Vice President, Sothebys International Realty Canada
Leading the Torontoism.com Team at Sotheby's International Realty Canada, Richard is designated as an ABR, e-PRO and a Certified International Property Specialist (CIPS). A past Director-at-Large for the Canadian Real Estate Association, and Past-President of the Toronto Real Estate Board.
A speaker and writer about the use of "Technology in Real Estate" as well as "The International Real Estate Market," he is founding Past-President of the Asian Real Estate Association of America, Toronto Chapter. Inman News named him one of the "Top 100 Most Influential people in Real Estate for 2013."
To learn more about Richard, visit www.Torontoism.com.
Jay Kipp, Panelist Founding Director & Managing Broker, Realogics Sotheby's International Realty
Real estate is known as one of the most competitive industries in the world, where inspiration, drive, and a deep consumer understanding are vital to success. With over 15 years in the residential real estate industry Jay brings a wealth of knowledge regarding appraisal, market analysis, capital markets and property marketing to any real estate transaction, and his personal connection to real estate developers, lenders and builders help his clients stay abreast of relevant real estate trends.
For 2018, Jay was ranked the #1 Realogics Sotheby's International Realty Broker of the Seattle office, by sales volume. His experience representing managers to C-Level executives for some of the largest companies in the Pacific Northwest places him in the top 1% of sales volume nationwide.
Jay is a member of the FORBES Real Estate Council, an invitation-only organization, as well as Sothebys International Realty Next Gen Affinity Group, a collection of 40 agents (out of over 21,000 company wide) selected by Julie Leonhardt LaTorre, COO of Sothebys International Realty, who lend their voice and insight to assist in shaping the companys future. Jay is an active member of Sothebys International Realtys Exceptional Agent Network, a collegiate forum of brokers in all major metro-markets, and select destination markets, who share best practices and local market insight across North America.
Prior to joining Realogics Sothebys International Realty, Jay worked Ewing & Clark, Seattles oldest luxury real estate brokerage firm, and at Coldwell Banker Bain, the #1 Coldwell Banker affiliate worldwide. During his tenure at both firms Jay and his business partner were their offices #1 producing brokers. While at Ewing & Clark, Jay was appointed to the Board of Regents of LuxuryRealEstate.com and while at Coldwell Banker, achieved the companys highest sales designation of International Presidents Premier.
Jay holds a Masters of Science in Real Estate from the Runstad Center for Real Estate Studies at the University of Washington. He is a fourth-generation native of the Pacific Northwest, third-generation real estate broker, and was born and raised on Seattles Eastside.
To learn more about Jay, visit www.JayKipp.com.
Joelle Oiknine, Panelist Senior Global Real Estate Advisor, ONE Sotheby's International Realty
Joelle Oiknine has been recognized as one of the Top Ten producing agentsat ONE Sothebys International Realty as well as being named to the Real Trends WSJ Top 100 agents in Miami on multiple occasions. In December 2017, Joelle was named one of the Top Female Power Brokers at One Sothebys Realty.
Joelle belongs to the prestigious Master Broker Forumand is designated as a CertifiedLuxury Marketing Home Specialist.
Raised and educated inMontreal,Canada, with a Bachelor of Science degree, Joelle Oiknine had extensive professional experience in thehigh tech & computer gamingindustriesprior to becoming a real estate agent. Her past endeavors include work with JVC Musical Industries, Wizcom Inc., and Fujitsu/ICL, Australia.
Her unique background in a variety of major companies adds to her versatility and expertise as a luxury Realtor.
Joelle is an expert in luxurySouth Floridareal estate, dealing with exceptionally high-end properties such as oceanfront condos, waterfront homes, and pre-construction developments. Her areas of operation include such renowned communities as South Beach,Miami Beach, Bal Harbour, Sunny Isles, Miami, Aventura,FisherIsland,Fort Lauderdale,Hollywood, andHallandale.
Throughout her tenure, Joelle Oiknine has developed a notable reputation for excellence and enjoyed a strong following of repeat clientele. She has been consistently cited by clients and colleagues alike as having a passionate and personalized approach to real estate.
Her commitment to her clients bestinterestand her passion for theindustryhas ensured herplaceas one of the Top Agentsin the South Florida market.Joelle loves to travel internationally and discover new cultures.She is fluent in English, French & Hebrew.
To learn more about Joelle, visitwww.JoelleRealtor.com.
Jeff Wilson, Panelist Luxury Property Specialist, TTR Sotheby's International Realty
As a native Washingtonian, Jeff Wilson has been selling luxury real estate for 30 years - it's what he knows and it's what he loves. With extensive market knowledge backed by years of experience in both bull and bear markets, Jeff skillfully and strategically advises his clients to achieve the best possible outcome. The result has been consistent recognition by The Wall Street Journal as one of the most successful real estate agents in America.
Jeff's strengths lie in his creativity, vision and attention to detail. He understands the nuances of each unique property, allowing him to maximize value for his sellers and find value for his buyers. His ability to remain calm, focused and solution-oriented throughout a transaction has earned Jeff the trust and loyalty of his clients. Building lifelong relationships based on service and tenured advice are the hallmarks of Jeffs practice.
Over a career that has spanned three decades, Jeff has had the honor and privilege of serving generations of families, their friends, neighbors and coleagues. Jef and his associates take great pride in providing white-glove service at every turn and being relentlessly helpful to each individual client. They serve DC, Maryland and Virginia, working almost exclusively by referral.
Jeff resides in Dupont Circle and Delaplane, Virginia with his husband, three daughters, two cats, and two dogs. He is a graduate of the University of Maryland with degrees in Finance and Economics. Jeff serves on the board of the Humane Rescue Alliance and also supports Food and Friends, the American Diabetes Association, the Multiple Sclerosis Society, and St. Jude Children's Research Hospital.
To learn more about Jeff, visit www.JeffWilsonDC.com.