[:en]
Gibson Sotheby's International Realty opened its doors to Cohasset residents along with other shops and merchants in celebration of the towns Village Holiday Stroll, an annual event hosted by the Cohasset Chamber of Commerce. As the stroll kicked off December 7th, storefronts were alive with the spirit of the season and festively adorned with wreaths and white lights as they invited visitors in for cider, chowder, cookies, and family-friendly activities. This years event drew in even more community members with its amazing spectacles, including ice sculptures, fire pits and smores, hayrides, Frozen characters Elsa and Anna, costumed stilt-walkers, acrobatics, and Santa Claus arriving on a fire truck. Homemade treats were passed out in the streets by businesses, including peppermint hot chocolate and locally made cupcakes. It was a festive night, indeed, corralling community members together and striking a nostalgic chord of holiday happiness for all.
All visitors who stopped by Gibson Sothebys International Realty were invited to partake in our Santa letter writing station, complete with custom stationary and all the trimmings. A stack of letters filled an official North Pole mailbox by the nights end while children and adults alike lingered in the office, enjoying refreshments and chatting with South Shore agents. Every last visitor was entered into a free raffle to win a whimsical, homemade Ginger Betty gingerbread house.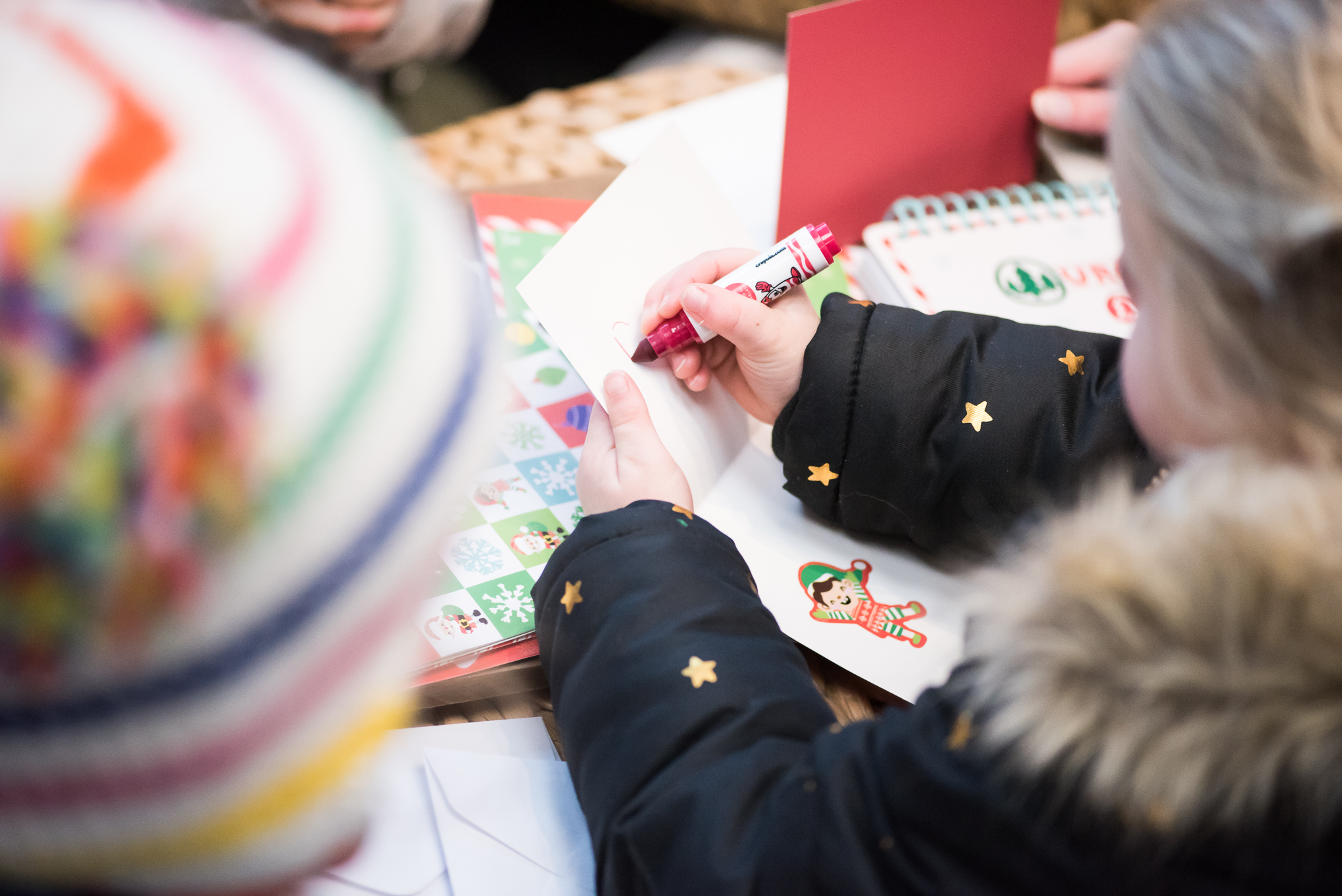 Being a welcoming part of the local community is so important to us at Gibson, said Gibson Sotheby's International Realtys agent, Mary Beiche. I live in Cohasset so my roots grow deep here. Its a wonderful, tight-knit community and that was pretty evident on Saturday night.
Karen Peters, a South Shore Broker, who helped coordinate the event, added, Gibson really does pride itself on its family-oriented culture, and events like this allow us to express our gratitude to our town and clients. It was fun having the chance to interact with our clients on a more personal level and get to know their kids and even their dogs! It was a full house here last weekend. Lots of good cheer."
The evenings festivities peaked when a dedicated group of carolers performed an impromptu concert for the office, drawing in a full house. It was a magical moment for all one that perfectly summed up this small towns holiday experience.The Cohasset village is quintessential New England charm, said South Shore agent Maryann Zaccardi. Were really lucky to witness that energy here in the office. It was so sweet, seeing all those little kids faces lit up with excitement over the carolers, the gingerbread house and all the lights and vendors on the street. What a fun time.
The village and Route 3A business section of Main Street were closed to traffic as participants attended these festive open houses and enjoyed the activities. As Santa arrived on an antique firetruck, the event kicked up full swing and a tree lighting ceremony at Bia Bistro added cheer to the streets.
Gibson Sothebys International Realty will announce their gingerbread house raffle winner this week and keep its doors open during the holiday season as an official Santa Letter Drop-Off location. Our elves are busy working to make sure every last letter makes it to the North Pole. Happy Holidays!
[:]