"Speaking from using it for almost a year now, RealScout has definitely helped me close and convert more buyers from open houses. I have found it makes working with buyers much easier and less likely that I might let buyer leads slip through the cracks when I get busy with listings." Ryan Glass, Gibson Sotheby's International Realty.
[:en]The future of real estate technology isnt all about bots, drones, or virtual reality. Its about real people and families striving towards their dreams, and the experts and brands that help achieve them.
Tech-enabled collaboration and marketing are at the core of Gibson Sothebys International Realty, Bostons largest independently-owned brokerage that has experienced over $2 billion revenue and productivity growth over the past 13 years. Now, the firm is extending its tech-forward business advantage with RealScout, a powerful home search solution that empowers a collaborative process between the homebuyer and his/her agent. Instead of aiming to replace the role of the real estate agent, RealScout is built around the opposite philosophy: it augments the agents local and transactional expertise, offering the client the ultimate advantage.
Being that authentic human connection is at the forefront of how we do business, we immediately understood the value RealScout could bring to our agents and their clients, said Colleen Barry, CEO of Gibson Sothebys International Realty. Our agents who piloted the platform were so enthusiastic about its capabilities that we decided to jump onboard almost immediately. It allows our agents to maintain ongoing conversations with their clients online, and it is exceptionally easy to use.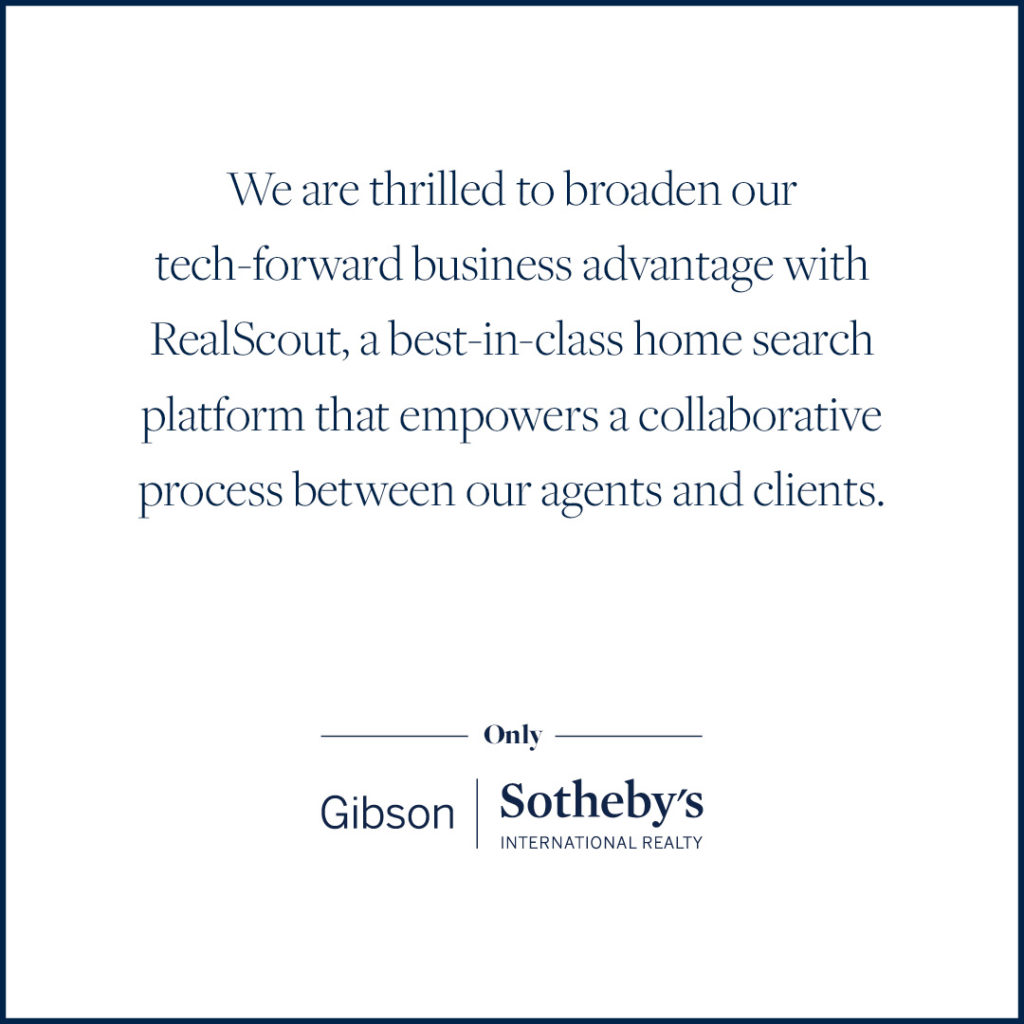 By establishing a collaborative home search experience that far surpasses what is typically offered on property websites, RealScout helps agents maintain their connections with their clients, rather than drive a wedge in their relationships. The company is embracing the existing real estate transaction model by simply providing tools to better maximize an agents value. At first glance, RealScouts consumer search experience is similar to that of Zillow and Trulia, yet contains the most accurate and up-to-date listings directly from the MLS. Also, unlike those platforms, RealScout fires up the agents role in home search and the unique ability to hunt for listings by a wide array of features and amenities not offered on every listing website: everything from remodeled kitchens to high ceilings to near shopping. The best homes will flow to the top of the prospect list, eliminating wasted time and views of properties that arent the right fit. From this behavioral data, agents who use RealScout can track a clients search history, recommend listings, curate search filters for homebuyers, and set up listing alerts, thus empowering real estate professionals to collaborate with clients via this consumer-friendly technology.
RealScout provides other distinguishing benefits to both consumers and agents. Buyers can compare different properties side-by-side without needing to flip back and forth, helping to narrow their search even more quickly. Within their search on every home, there is a button called Schedule a Showing or Details that emails the agent immediately. Then, the agent can interact by messaging the buyer in real time to set up a time to preview the listing.
The overarching takeaway: RealScout is about making the transaction more efficient for the buyers and sellers and only serves to help agents facilitate great relationships. While brokers are no longer gatekeepers for data and information, they still have a lot to offer clients: from their market expertise to their negotiating skills and their network of industry relationships. This makes it easier for a client to leverage an agents expertise, while speeding up the process and enhancing collaboration. While the focus has been on technology, the truth is success in real estate has always beenand will always beall about human connection.
To learn more about RealScout, ask your Gibson Sotheby's International Realty agent or visit www.realscout.com.[:]