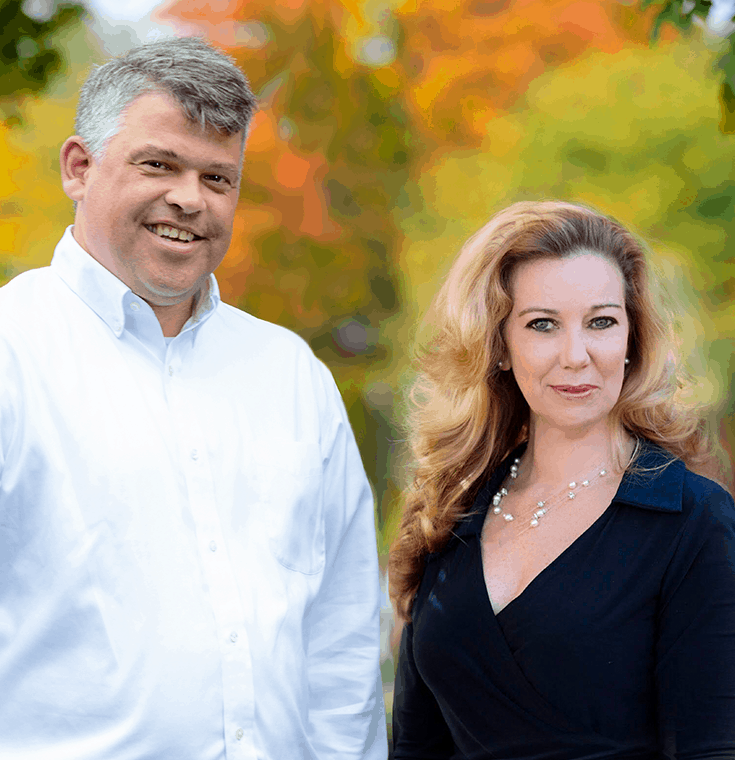 Global Real Estate Advisors
The Parker & Sammut Team is an exciting and unique partnership between two of the MetroWest's top real estate advisors—Jared Parker and Dani Sammut. Together, they have an ingrained understanding of the most desirable suburbs of Boston and of the importance of owning every facet of the transaction: from packing, to staging, to supporting their clients when in need. A team of meticulous, personable, and trustworthy real estate professionals, Jared and Dani have a proven track record of [...]
The Parker & Sammut Team is an exciting and unique partnership between two of the MetroWest's top real estate advisors—Jared Parker and Dani Sammut. Together, they have an ingrained understanding of the most desirable suburbs of Boston and of the importance of owning every facet of the transaction: from packing, to staging, to supporting their clients when in need. A team of meticulous, personable, and trustworthy real estate professionals, Jared and Dani have a proven track record of making the home buying and selling process fun and stress-free. Their diverse clientele appreciates their full-service approach and ability to deliver results leavened with a sense of humor, empathy, and unflagging positive energy. Additionally, Jared and Dani's varied career backgrounds have equipped them with valuable skills required daily in negotiations and navigating transactions on behalf of their clients.Jared and Dani grew up and continue to reside in the rivaling towns of Wellesley and Needham, respectively, and are proof that competitors can also be collaborators. Their longtime residency in Boston's MetroWest give Jared and Dani the enthusiasm and desire to make their home, that of their clients. Jared and Dani's passion and commitment to their communities keep them actively involved in numerous civic, school, and athletic organizations. Jared serves as President of the Wellesley Historical Society and Wellesley Youth Hockey, while Dani is proud support of Circle of Hope and Needham Goes Purple for Alzheimer's.
Office Location
54 Central Street
Wellesley, MA 02482
Contact Info
Specifications
Languages:
Specialties:
Service Area:
Parker's Testimonials
"Dani provided outstanding service and helped us find a home we look forward to raising our children in over the next 20 years. Coming from Boston, and with neither of us being originally from Massachusetts, we didn't really know what we wanted when we met Dani at an open house in Wellesley. We hadn't decided on a town, and anything else we thought we "knew" we wanted seemed to change weekly as we learned more about the various options for living outside of Boston. Dani was extremely [...]
Wellesley
"Jared and Dani make a perfect team. They are professional, helpful and very kind. Jared has a unique way of understanding the market, which makes him very different from the other agents I met before meeting him. My husband and I decided that he was the right agent for us after our first meeting as we drove-around around town with him. During the house selection and purchasing process, he focused on searching for a house with good market value and in a nice neighborhood area. They did not let [...]
Wellesley Hills
"Not having moved for quite some time I was not quite sure what to expect, after interviewing 3 different real-estate firms I picked Jared Parker and Dani Sammut because of their professionalism and caring approach. From that time on I did not have to worry about anything but packing my belongings. There are many things that came up that Jared and Dani were able to solve without me getting involved. The sale went smoothly because they were in charge, every step of the way. If you are looking [...]
Wellesley Hills
"Dani and Jared were wonderful to work with! They were patient, helpful and worked like crazy to get our house sold. Would definitely recommend!"
Needham
"It's hard to find a more straightforward and honest real estate professional. Hard working and sincere, he is always there for you. For him, the value of service above is what drives him. Someone you can rely on."
Wellesley Hills
"I just want to thank you for all you did to help me sell my condo. You did an amazing job and helped me through the process more than I thought any broker would or could. Thank you!"
Wellesley
Contact
Hi there! How can we help you?
Contact us using the form below or give us a call.
Hi there! How can we help you?
Contact us using the form below or give us a call.