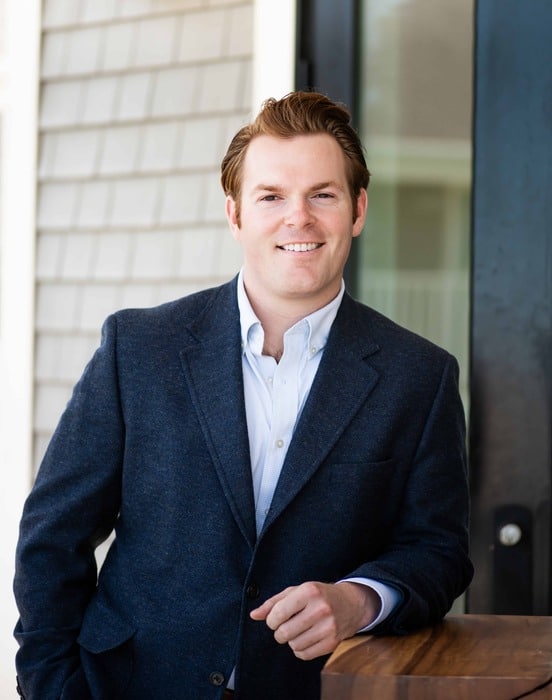 Global Real Estate Advisor
|
Sales Associate
Paul McCormick, a Cape Cod native is a Realtor with Gibson Sotheby's International Realty. He works closely with buyers and sellers in all price ranges, specializing in luxury homes throughout the Cape. His scope of knowledge and experience with investment properties, second homes and primary residences provides his clients with exceptional insight into the local [...]
Paul McCormick, a Cape Cod native is a Realtor with Gibson Sotheby's International Realty. He works closely with buyers and sellers in all price ranges, specializing in luxury homes throughout the Cape. His scope of knowledge and experience with investment properties, second homes and primary residences provides his clients with exceptional insight into the local market.
Paul has served in director roles in campaigns and advocacy groups as a political and fundraising consultant throughout New England. Currently he serves on the board of the Cape and Islands Boy Scouts of America, President of South Side Civic Association, and Chairman of the Dennis Planning Board. Paul is a graduate of Chatham High School and Suffolk University. An avid golfer and experienced sailor his love of the Cape and passion for real estate have anchored him here.
Recognized as a "40 Under 40" by Cape and Plymouth Business Magazine and quoted numerously in The Cape Cod Times, Paul also holds the distinction of being ranked in the top 1.5% of all Cape Cod Realtors. He has honed a keen ability to grasp a client's needs and considerations. His authentic approach to the process of purchasing and selling a property is built on a foundation of trust and integrity.
Office Location
409 Main Street
Chatham, MA 02633
Contact Info
Specifications
Languages:
Specialties:
Service Area:
Paul's Testimonials
"Paul was incredibly helpful and carefully guided me through my purchase of my new Cape home. His professionalism, knowledge and confidence made my experience very special. And we had a lot of fun, despite the pandemic! I really appreciated all of his thoughtful support even beyond the home itself. Again, many, many thanks to Paul!"
—Joan Gionfriddo
"Paul McCormick really changed my point of view on what a great agent can do for you. My wife and I decided that we would purchase a property on the Cape after having summered here for several years. Once he had a sense of what we wanted, he worked 24-7 to make it a reality. We wanted a pool, or the ability to put one in. So on hours notice, he had a pool professional show up at a site we were strongly considering to talk about the possibilities and how much it would be. When we were looking at [...]
—Steven Goldbach
"Great local agent who knows the area extremely well. Paul was extremely diligent throughout our house buying process. He was quick to respond to all of our questions and concerns, provided great recommendations and insights, and helped us find our first home! We couldn't be happier and highly recommend working with Paul."
—Libby & Rob Toffolon
"I highly recommend Paul McCormick not only as an experienced and efficient real estate agent, but as an honest, personable and hard working young man. We recently purchased a second home on the Cape and despite being in the middle of the Covid 19 pandemic Paul was able to make the process easy, on-time and non-disruptive for us in every way. Being a native of Cape Cod, he has been able to give us information, contacts, and referrals to make our move seamless, and be ready for the summer ahead. [...]
—The Ahearn Family
Paul was wonderful to work with for helping us secure a lovely Cape property! He is extremely pleasant, professional and knowledgeable on the process from beginning to end. In addition, he is well connected to the area and able to offer resource suggestions for many things. I highly recommend working with Paul!
—Katie Savage
"Look no further, Paul McCormick is the real estate agent you should use. Paul is extremely professional, personable and has an in depth firsthand knowledge of the Cape. From day one, it was Paul's intention to understand what we were looking for. He will not waste your time but, rather, provide extremely accurate options during your search. Paul will be with you the entire journey and is always readily available for communication. We could not have asked for a better real estate agent and will [...]
—The Morton Family
"The current market is challenging to navigate, especially as a first time home buyer! Paul McCormick is a local realtor who advocated on our behalf. He guided us through multiple offers, provided strategy and made calculated decisions for us. Having Paul, an experienced agent on our side, was instrumental in our success."
—Kelsey Terrio & Ciaran Lombardozzi
"We contacted Paul to list our waterfront home. He communicated clearly, effectively and often as we engaged him to sell our family home of many years. He went beyond our expectations in helping us in every detail regarding our move. The staging and photography of the property at Paul's direction was exceptional. It was a stellar experience from the first call to the day of the closing. It is our pleasure to recommend Paul as a consummate professional in his industry."
—Christine and Michael Attardo
"Paul was professional and exceptionally helpful throughout our Cape Cod house purchase. He is extremely knowledgeable and always responds promptly to any questions that may arise. We felt he wanted to help us find the perfect house for us and not just interested in making a sale. I am happy to say we found that house. Even though our purchase is completed he still offers his help if we should need anything further. I would highly recommend Paul as their agent."
—Janet & Kevin Kelly
"We found Paul to be extremely informative and resourceful in our search for the perfect coastal property. His ability to listen to our desires and produce appropriate properties for our consideration was remarkable. He guided us with expertise through the negotiating and purchasing process. In addition, he has introduced us to many local resources, aiding us to easily settle into our new home on the Cape. We are pleased to recommend him as an outstanding broker."
—Diana and Tom Robertson
Contact
Hi there! How can we help you?
Contact us using the form below or give us a call.
Hi there! How can we help you?
Contact us using the form below or give us a call.